Learn a Language: Typescript
08-09-2016
Javascript is everywhere! Whether you are building a web front-end, a hybrid mobile application or a lean back-end with NodeJS, you can't get around Javascript. NPM repositories contain more libraries than Nuget or Maven Repo's.
But at the same time Javascript can be a very difficult language to write your software in. It is not object oriented, it is weakly typed and it has lot of strange and difficult to understand language constructs. You can work around these limitations, but this takes a lot of experience and discipline from the team. Especially if you have experience in an object oriented environment.
Enter Typescript. Typescript is a new scripting language based on ECMA 6. It will give you true object orientation, strong typing and built in support for modules with AMD, CommonJS or ES6 modules.
And it compiles to just JavaScript so it runs in any browser or on any platform that supports Javascript.
In this meetup we will deep dive into Typescript. You will learn a new language with presentation, code, demo's and exercises.
18:00 Doors open, dinner
18:30 Start of content
Prerequisites
An IDE that supports TypeScript, either WebStorm or Visual Studio Code.
Chris van Beek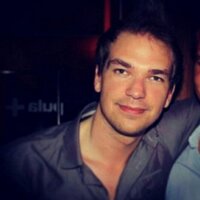 Chris van Beek is a software architect at Luminis Arnhem. After seven years spent developing and training Microsoft technology, he now moved on to architecture for that same platform. He likes to learn, and to teach!
Chris' main expertise is in the Microsoft stack, but he has a soft spot for front-end development with Angular, Typescript/Javascript, HTML, and CSS.
Location
Arthur van Schendelstraat 500
3511 MH Utrecht
Register for this event
This event is not open for registration
Unregister
Registrations
Alberto Melendez
Wouter biegstraaten
Emmanuel Justice
Asher
Arco Oost
piet vredeveld
Angelo van der Sijpt
Jan Toebes
Jeroen pot
Tine Bandstra
Arjan van der Maarl
Mark Giesen
Hj meulekamp
Arnout Engelen
Roeland van Houte
Kasper Schipper
Steven Thonus
Ghislain
Daan van Berkel
Devnology is a non-profit organisation and thus depends on sponsors. Thanks to our wonderful sponsors all Devnology events are free!